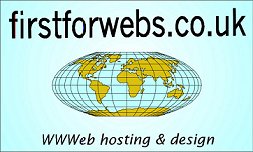 ---
Terms & Conditions
1.
All users of any services provided by firstforwebs in using such services accept the terms and conditions set out in this notification, irrespective of the mode of ordering employed by the user when ordering the services.
This agreement is made between firstforwebs and the user................... (You)
2. Definitions
"Services" means any services provided by firstforwebs, e.g. provision of web site, management of such web site, registration or any other services provided for the user.
"User" the client, e.g. you.
3. Intellectual Property Rights
The user shall obtain the necessary consent and clearances to enable the lawful use of any material provided for use on any site as requested by the user. The user shall indemnify firstforwebs against any unlawful use of material as a result of a request by the user to include such material in the site managed for them by firstforwebs.
Any material generated by firstforwebs, including pictures and web pages remains the intellectual property of firstforwebs. No use of any such material shall be made without first obtaining written permission from firstforwebs.
4. The user shall indemnify firstforwebs and keep firstforwebs indemnified and hold firstforwebs harmless from and against any breach by the user of any terms and conditions and any claim brought against us by a third party resulting from the provision of Services by us to you and your use of the services without limitation including all claims actions, proceedings, losses, liabilities, damages, costs, expenses (including legal costs and expenses) howsoever suffered or incurred by us in consequences or the users breach or non-observance of this agreement.
5. Payments for Services. All payments for services are due within 4 weeks of invoice date. Firstforwebs reserves the right to suspend services without notice until all payments are received.
6. Termination of service. The user shall give firstfowebs one months notice in writing of intention to terminate the service/s provided. All outstanding invoices must be paid prior to any transfer of domain names.
7. Transfer of domain names. A fee will be charged for the transfer of domain names. That fee, currently £30 per domain name must be paid prior to the transfer of the domain name.
8. In no event shall firstforwebs be liable for any loss of business, contracts, profits or anticipated savings or for any other indirect or consequential or economic loss whatsoever.
---